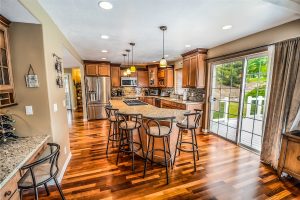 Lynh's Hardwood Flooring is able to provide our hardwood flooring services to numerous cities and towns. The town of Norwood is one of them. Norwood is a town and census-designated place in Norfolk Country. With a population of 30,602, we want to show homeowners of Norwood that at Lynh's Hardwood Flooring, you get the best deal and work done for your home. Our team at Lynh's Hardwood Flooring are able to assist any type of projects, whether how much work is needed, we are able to provide the best possible services.
Our Services:
Installation   |   Sanding    |   Refinishing   |  Staining
Hardwood Installation Norwood MA
If you're looking to upgrade your floors, we suggest looking into hardwood installation. Trong at Lynh's Hardwood flooring will personally help you choose the perfect wood that best complements your room, delivering 100% satisfaction guaranteed, from the first plank to the final piece of trim!
Hardwood Sanding & Refinishing Norwood MA
If your floors are looking worn out and need refinishing, we are here to assist you. Your floors need to be sanded and refinished to restore its original and elegant look. Sanding can be messy, we've handled many unhappy homeowners who have experienced poor services due to lack of consideration to their clients. At Lynh's Hardwood Flooring, we make sure your room is kept environmentally safe throughout the day, as it is important that you trust us before we get started.
Upgrading your floors can beautify your room within an instance and add more value to your home should you decide to sell in the future. if you're looking to install, sand, refinish or stain your wood floors in Norwood MA. Please get in touch and contact us at (857) 869-0573 or fill in our online contact form. 
Testimonials
Rated
5
/5 based on
3
Local Customer reviews
Norwood MA Customer Reviews:
Love my new floors!
- by
Alice
, September 15th 2017

Trong and team were excellent from the beginning to the end. I could not be any happier with my floors, thank you so much!!
Highly Recommended
- by
Stever R
, March 5th 2017

My floors were in serious need of replacement. I contacted Trong through a friend who also had their floors done by him. Once Trong and the team finished my floors, I was shocked as my floors were unrecognizable as they looked brand new!! If you're looking to have your floors done, Trong is your man!"
The Best in Norwood!
- by
Dennis
, November 17th 2016

My previous contractor did a horrible job to my floors, thankfully I found Trong on Google to fix my hardwood floors like it was supposed to look. Trong did an amazing job, his team was efficient and respectful to my home as we had kids and pets around the house during the day. Thank you Trong for being professional!"
....................